OP5 Personality test for the Big 5 Model

What does this test measure?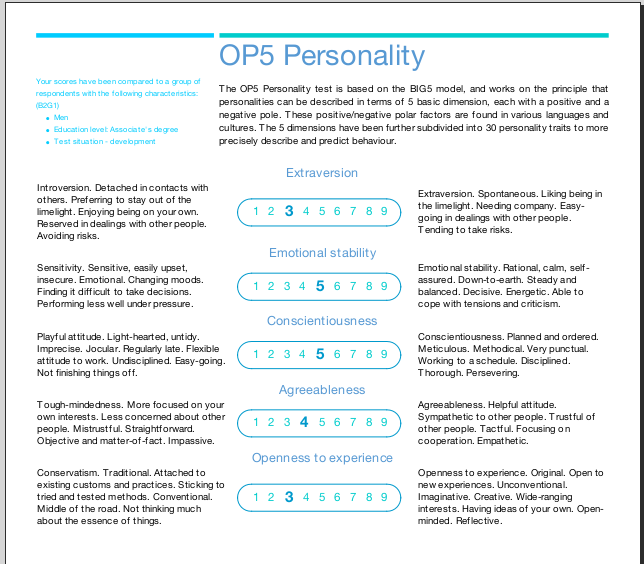 The OP5 is a personality test. This test measures the candidate's affinity with each of the 5 dimensions of the Big 5 personality model and 30 subscales that look at a wide variety of personality factors.
                                        Extraversion
                                          Risk-taking, Sociability, Social Skills, Dominance, Ambition, Expressivity
                                        Stability
                                        Emotional stability, Energy, Self-confidence, Stress resistance, Social adequacy, Self-reliance
                                        Conscientiousness
                                        Motivation to perform, Tenacity, Goal-oriented, Planning, Order, Discipline
                                        Agreeableness
                                        Trust, Collaboration, Team focus, Empathy, Friendliness, Altruism
                                        Openness
                                        Creativity, Vision, Breadth of interests, Awareness of surroundings, Philosophical thinker, Self-perceptiveness

Target Group
All education levels
18-65 years old

When would you use this test?
Next to the Octogram, the OP5 is one of the basic two tests used by psychologists. The personality test measures deeper characteristics "under the water line" than what can be seen by the Octogram test by itself. The results are very detailed and deep and can launch a much deeper conversation with the candidate. Can be used in both selection and development situations.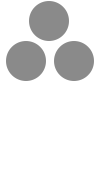 Overige kenmerken
No time limit, average completion time of 38 minutes
302 items
Likert scaleschaal
Stanine scoring (expanded information in Expert report gives some 'meta' scores for this test)
Graphic representation in the Octogram Model (available in the Expert Report)
Underlying theoretical model: Big 5

Example Report
Click here to download an example report.


Example Question